St. Arnaud Community Resource Centre
---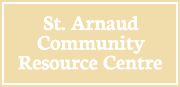 85 Napier Street
St. Arnaud 3478
Opening Hours
Mo: 8:00am-3:00pm
Tu-Th: 9:00am-4:00pm
Fr: 8:00am-3:00pm
Sa-Su: Closed
Are you looking for additional community support services?
St. Arnaud Community Resource centre is here to help! Our community resource centre covers all your training and office needs in one and is currently available for conferences and as a general meeting room. This gives the opportunity for collaborative workspaces, private training rooms and educational purposes. We offer a wide range of training sessions including first aid, responsible service of alcohol & gambling, food practices, marine safety certificates and more. Our basics include an introduction to computers and Windows 10 Introduction and Couching.
Our services and resources include:
Printing / photo copying
Conference and general room hire
Training classes
Computer and Internet use
Additional aspects of our business include registration as a Centrelink agent who can provide limited assistance with Centrelink and Medicare services.
Food Bank Victoria also supplies to our business, providing assistance to those in need. Our resources include toiletries (per availability) and hampers used to fill your cupboards, therefore reducing the amount of money your family will need to spend on food.
To see how we can help you, come down and visit with us today!