Northern Grampian Shire
---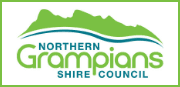 Are you planning to visit or perhaps move to the Grampians Region?
Whether you are just holidaying or planning to make a permanent move, Northern Grampian Shire Council can provide you with all of the information you need. This spectacular region is ideal for family life and boasts natural scenery and parks, as well as wonderful local businesses and enterprises that keep our community thriving.
Our experienced council staff are available to help you and provide you with knowledge on anything you may need to know including but not limited to:
Events & Education
Environment and sustainability
Public Health
Planning & Development
Community & recreation
Tourism
Pets and animal welfare
Roads and transport
Waste management
Business support
Operating from Monday to Friday our friendly team are here to help and guide you to the right department to answer all of your queries and make your transition here as smooth as possible. We take pride in our community and the safety and happiness of our residents and visitors is our number one priority. We work hard to maintain all aspects of the region so that both locals and guests can fully immerse themselves in the lifestyle and feel like a valuable part of our community.
For more information on any of our services, please visit our website or give our offices a call today.