Lyal Eales Store
---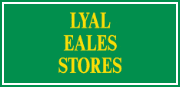 59 Napier Street
St Arnaud 3478
Opening Hours
Mo-Th: 9:00am-5:30pm
Fr: 9:00am-6:00pm
Sa-Su: 9:00am-2:00pm
Are you looking for your local reliable one stop camping, fishing and outdoors shop?
Lyal Eales Store is the one for you! Established in 1983, we have been providing country Victoria with the correct gear for each and every adventure, at the most competitive prices available. We are famous for our vast array of stock and our incredible service that you cannot find elsewhere.
Our stock includes but is absolutely not limited to:
Automotive
Work wear
Tools
Home wares
Kitchen wares
Gardening
Hardware
RV Camping
Portable refrigeration
Hire services
Lyal Eales store is the ultimate dream for all avid, adventurous Australians. Our staff will be able to help you find everything you're looking for, as well as provide advice on product recommendations. With several locations to choose from, and you are sure to find the products you need, easily and conveniently.
To enquire about any of our services, be sure to give our friendly staff a call today!