Kell Funerals
---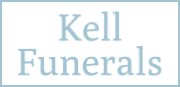 136 Napier Street
St. Arnaud 3478
Have you recently lost a loved one and looking for a beautiful service to honour them with?
With many years of experience, and compassionate, highly skilled staff, you do not need to look any further than Kell Funerals. Our chapel provides an intimate atmosphere that allows all visitors to mourn in a private and comfortable manner. Whether it be a religious or non-religious service, we can provide you and your family with a beautiful send off.
We are here to assist you with:
Burial sites in local cemeteries
General funeral arrangements
Cremation
Making choices best suited to you and your family's needs
Pre-arranged funerals
Death and funeral notices
For 5 generations Kell funerals have been carrying out respectful and courteous funeral arrangements, always there for you in your time of need. We pride ourselves on our ability to adapt each service to every individual family or loved one, ultimately here to make the entire process easier for you.
To enquire about our services, be sure to give our lovely staff a call today!