Karen Lee Probst Solicitor
---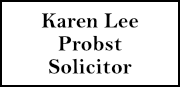 116 Napier Street
St Arnaud 3478
Are you looking for professional legal assistance?
With years of industry experience, and knowledge in providing specialised advice, Karen Lee Probst Solicitor is here to assist you with all your legal needs. Offering both efficiency and enthusiasm, we will always go above and beyond to provide clients with expert advice and quality representation each and every time.
Providing the local community with sound legal expertise, we can provide support in many areas of law including:
Conveyancing
Litigation
Criminal Law
Probate & Succession Law
Family Provision Claims
Wills
Utilising effective communication, and taking advantage of innovative modern techniques and technologies enables us to service a wide range of clientele throughout the St Arnaud, Donald, Charlton and Wycheproof regions. So, if you are looking for a reliable, knowledgeable and welcoming solicitor who will always offer easy to understand advice, then look no further than Karen Lee Probst.
For more information or to book an appointment, contact the friendly team today!