Hardinghams
---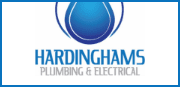 94 Wood Street
Donald 3480
Are you looking for a reliable plumber or electrician for your next project?
Look no further than Hardingham's plumbing and electrical! Operating since 1950, we have been providing Donald and the surrounding suburbs with excellent service of the highest quality. Since then we have been investing heavily in new technology in order to keep up with the fast pace of plumbing and continue providing our customers with fast and efficient service.
At Hardingham's we can assist you with:
Plumbing
Gas fitting
Split system installers
Roofing
Heating and cooling
Electrical work
Our specialists also have access to a wide range of affordable refrigerators, washing machines, dishwashers and much more, that we can help you source and install. Our community involvement is like no other, as we hold a strong reputation within the community and continue to sponsor and support many community organisations.
To enquire about any of our services, be sure to give our friendly staff a call today!
'I called on a Friday, lunchtime, a lovely lady was so kind and promised she would put a call out, even though it was late in the day, and do whatever she could to get a plumber out that Night. A young man, Ty arrived at 3pm, fixed the problem, all the while being courteous and polite. Thank you so much Hardingham's. You have my vote any day.' – Janet Dillon